Kyle Hendricks out pitched Chase Anderson with seven crisp innings, and the Chicago Cubs stopped Milwaukee's eight-game win streak with a 1-0 victory over the Brewers on Thursday night.
"When my fastball command was good from the start, I knew everything would work off that," Hendricks said. "So I was able to throw more curveballs. The action on that was good, even got a few strikes over with it. Everything just fell in line from there."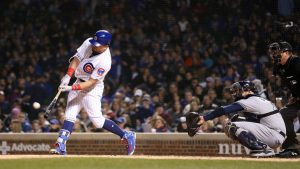 Kyle Schwarber's solo shot and 7 scoreless from Kyle Hendricks was all the Chicago Cubs needed. 'If I find the barrel good things are gonna happen" Schwarber said. Yu Darvish will take the bump against Brent Suter.
Fri: Yu Darvish (0-2, 6.86) vs. Brent Suter (1-2, 5.68)
Sat: José Quintana (2-1, 7.78) vs. Junior Guerra (2-0, 0.56)
Sun: Tyler Chatwood (1-3, 3.74) vs. Zach Davies (2-2, 4.45)