The Chicago Cubs take on the Milwaukee Brewers at Wrigley Field tonight. Here's the Cubs starting line-up.Cubs Kris Bryant out of Cubs starting lineup again Friday vs. Brewers: Cubs third baseman Kris Bryant is out of the starting lineup Friday against the Brewers for the fourth straight game. More updates to follow. below is Maddons quote from yesterday
"Day-to-day kind of stuff," manager Joe Maddon said before the Cubs beat Milwaukee 1-0 Thursday. "I'm not anticipating anything awful or bad. We're just waiting for everyone to be on board. Once we do that, he'll be back out there playing."
Fri: Yu Darvish (0-2, 6.86) vs. Brent Suter (1-2, 5.68)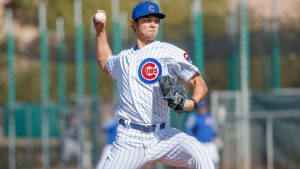 Cubs Minor League report — Thursday's games courtesy of Carrie Muskat
Duane Underwood gave up three hits over five scoreless innings, striking out five, in Iowa's 4-2 loss to Oklahoma City. Taylor Davis had two hits.
Tennessee's game vs. Chattanooga was postponed because of the weather. Trevor Clifton gets the start today.
Myrtle Beach split its doubleheader vs. Carolina. Aramis Ademan was a combined 3-for-5 and scored two runs and Connor Myers had three hits, including a homer, and four RBI. Tyson Miller gave up two hits and no earned runs in the second game.
South Bend's game vs. Bowling Green was postponed and will be made up at a later date. Tyler Thomas was scheduled to start today.